The Observatory launches 9-day "probability of significant rain" forecast
23 March 2021
The Hong Kong Observatory will launch the 9-day "Probability of Significant Rain" forecast, or "PSR" forecast for short, today (23 March) as an enhancement to the 9-day weather forecast service. The PSR forecast will enable the public to better appreciate the potential of high-impact weather so as to plan their activities ahead and get better prepared.
The PSR forecast provides users with additional reference on rainfall amount and forecast trend for the coming 9 days. The PSR forecast on each day indicates the probability of the accumulated rainfall generally over Hong Kong reaching 10 mm or more on that day in 5 categories as follows: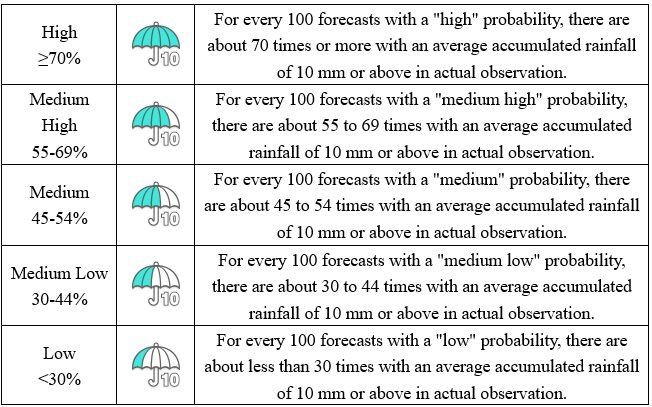 The 9-day PSR forecast will be issued daily at 11:30 am and 4:30 pm. The public can get access the forecast via the 9-day weather forecast webpage, HKO's homepage, and the Dial-a-Weather system (1878 200) etc. The service will also be included in the "MyObservatory" mobile app in future's update.

Figure 1 The New 9-day Probability of Significant Rain Forecast