Climate of Hong Kong

Climate of Hong Kong
Hong Kong's climate is sub-tropical, tending towards temperate for nearly half the year. During November and December there are pleasant breezes, plenty of sunshine and comfortable temperatures. Many people regard these as the best months of the year. January and February are cloudier, with occasional cold fronts followed by dry northerly winds. It is not uncommon for temperatures to drop below 10 Degree C in urban areas. Sub-zero temperatures and frost also occur at times on high ground and in the New Territories.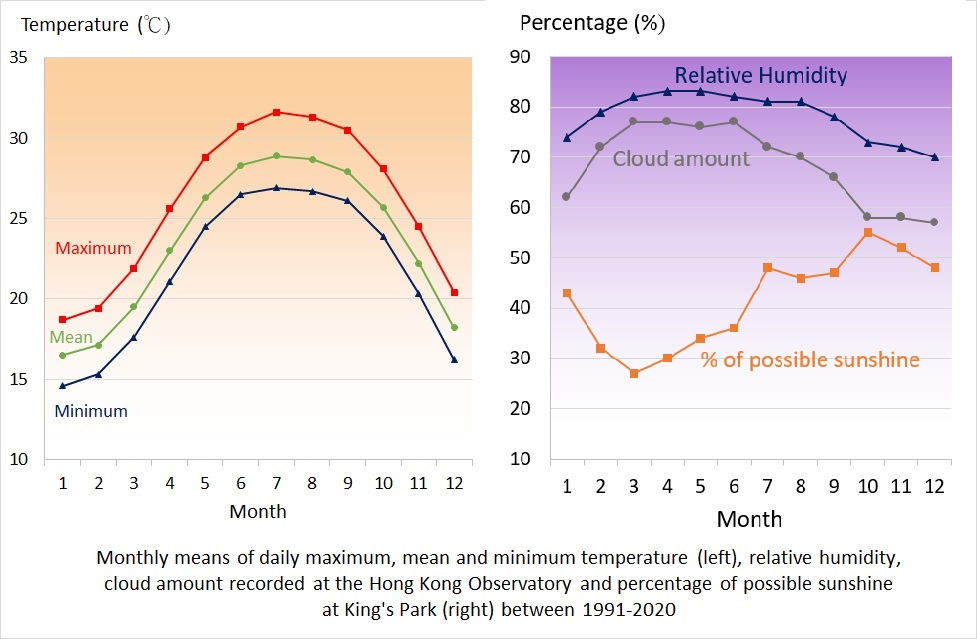 March and April are milder although there are occasional spells of high humidity. Air traffic and ferry services are occasionally disrupted because of reduced visibility under drizzle and foggy weather.
May to August are hot and humid with occasional showers and thunderstorms, particularly during the mornings. Afternoon temperatures often exceed 31 Degree C whereas at night, temperatures generally remain around 26 Degree C with high humidity. There is usually a fine dry spell in July which may possibly last for one to two weeks, or for even longer in some years.
May to November are the months during which tropical cyclones of different intensities may strike Hong Kong, while July to September are the most likely months with tropical cyclones affecting Hong Kong.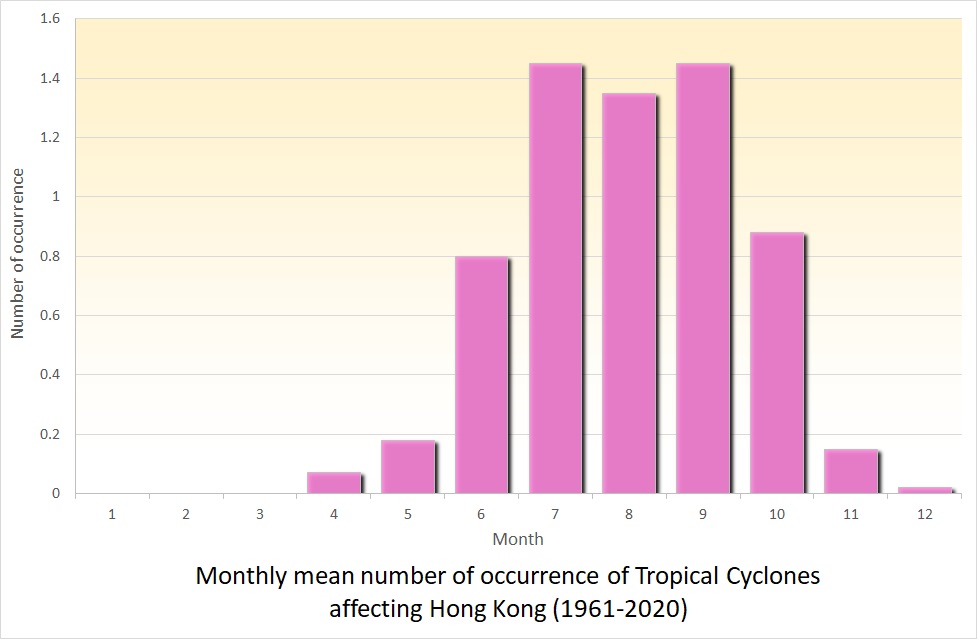 On average, about 30 tropical cyclones form in the western North Pacific or China Seas every year, and about half of them reach typhoon strength (maximum winds of 118 kilometres per hour or more). When a tropical cyclone is about 700 to 1000 kilometres southeast of Hong Kong, the weather is usually fine and exceptionally hot, but isolated thunderstorms sometimes occur in the evenings. If the centre comes closer to Hong Kong, winds will increase and rain can become heavy and widespread. Heavy rain from tropical cyclones may last for a few days and subsequent landslips and flooding sometimes cause considerably more damage than the winds.
The mean annual rainfall ranges from about 1400 millimetres at Ping Chau to more than 3000 millimetres in the vicinity of Tai Mo Shan. About 80 percent of the rain falls between May and September. June and August are usually the wettest months while January and December are usually the driest months.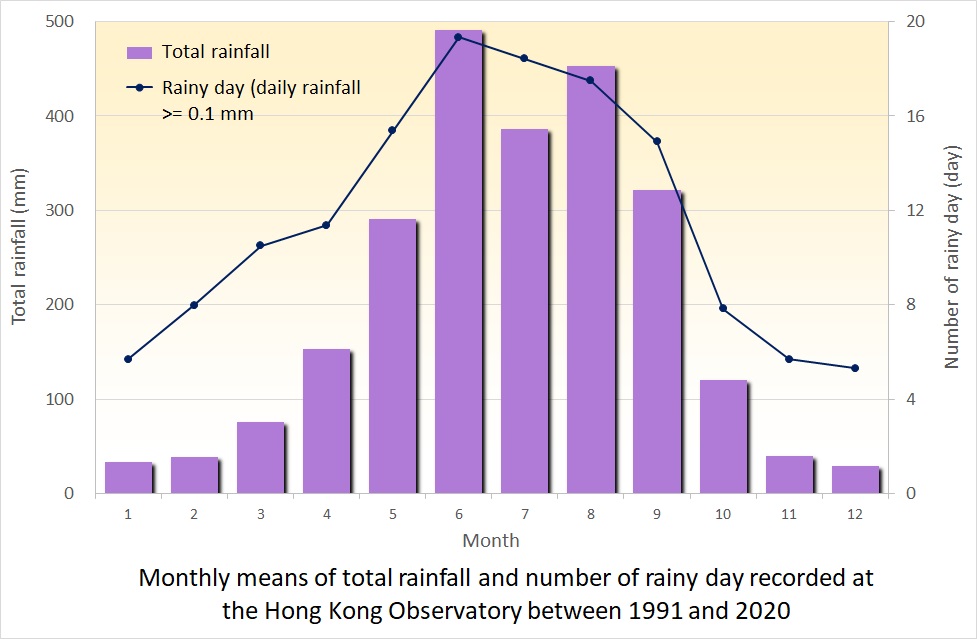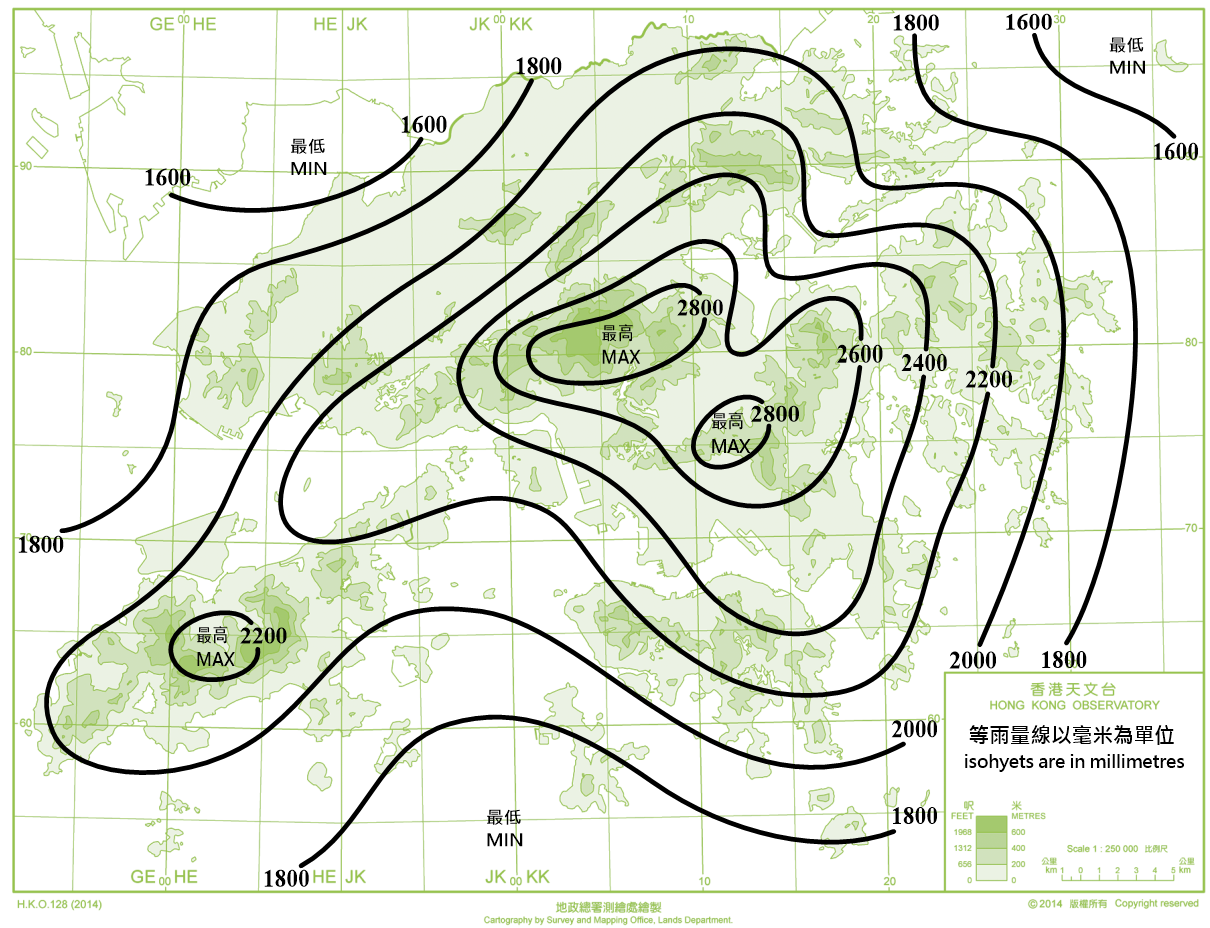 Average annual rainfall distribution in Hong Kong between 1991-2020
Severe weather phenomena that can affect Hong Kong include tropical cyclones, strong winter and summer monsoon, monsoon troughs, and thunderstorms with associated squalls that are most frequent from April to September. Waterspouts and hailstorms occur infrequently, while snow and tornadoes are rare.
Information of the climate change in Hong Kong can be found at "Climate Change" webpage.